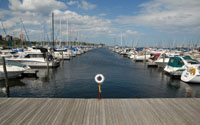 Spread on the ocean coast, the Palm Beaches offer a great number of established marinas. You can start your cruise here, go fishing or party on a yacht. Boca West Palm InterPlex Destination Services provides with quality transportation from any location in the area to Palm Harbor Marina, Palm Beach Yacht Club, Sailfish Marina , Riviera Beach Marina, and New Port Cove Marina at Palm Beach Shores, PALM HARBOR MARINA, West Palm Beach or any other place you choose to enjoy some waterside fun.
Simply position your cursor over the relevant price-cell, follow the link, and proceed with confidence to book your trip online!
If you have any questions or need additional information, please feel free to contact us at
1-888-255-9209 or use
- All prices in

USD

.
- Prices are per vehicle.
- Prices do NOT include driver's gratuity (tip).
- Service Charge of 20% will be added for all limousines and specialty vehicles services.
- All rates subject to change without prior notice.
- For Cancellations and other questions please refer to "Terms & Conditions"